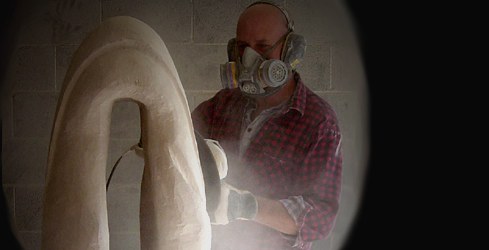 CARL WRIGHT, Sculptor
WSG Gallery

MOTION SERIES SCULPTURES
Motion Series

Movement is an unusual activity to catch in stone. Stone Sculpture is noted for being solid, rooted to the ground,
and unchanging. Exploring unanticipated action is the common feature of the Motion Series. A sculpture caught
in the act of falling, another sculpture caught just before it is ready to leap off its' base, another seemingly moving
effortlessly across its' base. All of these are displaying that elusive stone quality - movement.
All of the sculpture below is intended for interior display.
Click on each picture to see the translation, sizes and where the sculpture is available.
Embark -

Sold



Hansou -

Sold




Kai - Sold

Kinpaku - Sold
Mizushou

- Sold

Momentum
avail. WSG Gallery
Motion
avail. WSG Gallery
Nami 2 -

Sold

Oonami
avail. WSG Gallery

Skating - Sold

Soushi - Sold

Soushi 2


Sold

Triptych
avail. WSG Gallery




Ugokasu
avail. WSG Gallery
Ukei
avail. WSG Gallery

Uzushio - Sold
All artwork, images & content © WSG Gallery 2015